SIP-adus Workshop 2021
Event outline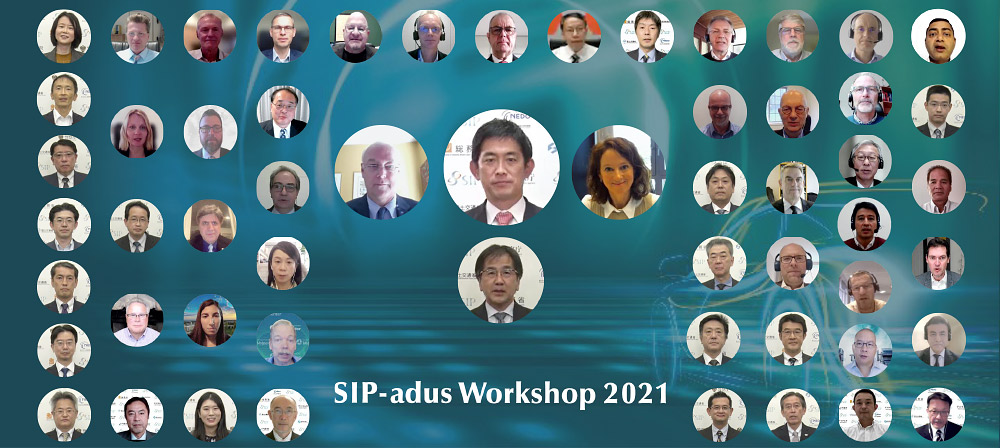 SIP-adus Workshop has been progressing with great momentum since 2014 as a forum where many automated driving experts in the areas of R&D and Service Implementation get together from all over the world to exchange their expertise and enrich their network.
Due to the COVID-19 pandemic, the format change to a web-based conference for the 2020 Workshop allowed for the largest number of participants from Japan and overseas to attend a SIP Workshop to date.
In 2021, the 8th SIP-adus Workshop will also be held online. This year's program will include an opening session and plenary sessions with eight different themes. The plenary sessions will include international speakers who will present the latest on their respective policies, initiatives and projects. Additionally, experts can join a Breakout Workshop on-site to discuss and exchange opinions on each theme.
Details will be announced on this website, so please check for frequent updates.
Date

November 9 - 10, 2021
Conference theme

After the opening session with Keynote speeches from presenters from Japan, Europe, and the United States, experts from Japan and overseas will emphasize the conference theme of SIP automated driving in their lectures on the latest polices, initiatives, and projects in the following eight sessions, additionally Japanese government ministries and agencies introduce their attempt related to automated driving.
Program

Plenary Session (as of October 15)

November 09
start at 9:00 (JST)
November 10
start at 9:00 (JST)
AM
(JST)
Opening / Regional Activities
Dynamic Map
Impact Assessment
Connected Vehicles
PM
(JST)
Service and Business Implementation / FOTs + Human Factors (Joint Session)
Safety Assurance
Cybersecurity
Japanese Government
Closing

| | | |
| --- | --- | --- |
| for Europe | start at 9:30 (CET) / 17:30 (JST) | start at 9:30 (CET) / 17:30 (JST) |

| | | |
| --- | --- | --- |
| for Americas | start at 11:00 (EST) / *1:00 (JST) | start at 11:00 (EST) / *1:00 (JST) |

*The time will be the next day

[Plenary Session] Abstracts and Speakers List
(as of October 15)
Breakout Workshop (as of September 30)

Impact Assessment
*Experts participation only, no online streaming

Service and Business Implementation / FOTs
*Experts participation only, no online streaming

Human Factors
October 29 23:00-25:00 (JST) / 15:00 (CET) / 9:00 (EST)

Dynamic Map
*Experts participation only, no online streaming

Connected Vehicles
November 8 23:00-25:00 (JST) / 15:00 (CET) / 9:00 (EST)

Safety Assurance
[Virtual Testing]
*Experts participation only, no online streaming
[EU HEADSTART - JP White Paper consolidation]
*Experts participation only, no online streaming

Cybersecurity
*Experts participation only, no online streaming

[Breakout Workshop] Dates and panelists information for each theme
Organizer

Cross-Ministerial Strategic Innovation Program, Secretariat of Science,
Technology and Innovation Policy, Cabinet Office, Government of Japan
New Energy and Industrial Technology Development Organization (NEDO)

Supported by ITS Japan